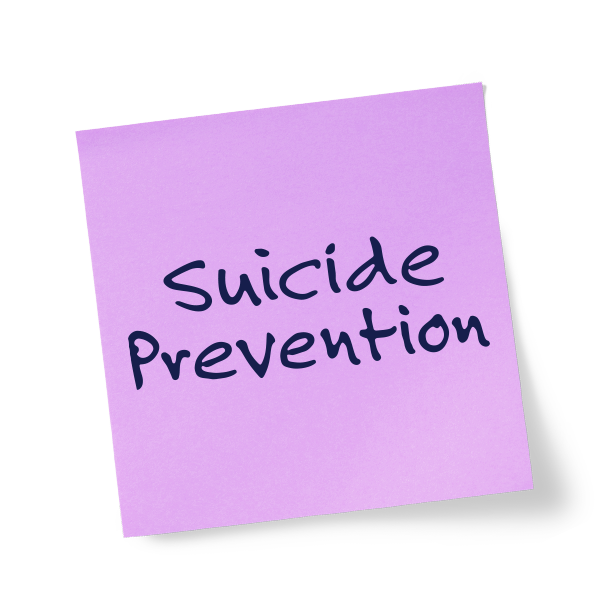 Suicide Prevention
Prevention starts with education. That's why learning about behavioral health is important, from suicide prevention to mental health conditions like depression or anxiety that can affect anyone. Get informed, and help make a positive impact.
Contact 988 for help
If you or someone you know is experiencing mental health-related distress or thoughts of suicide, please call or text 988, or click to chat with a local professional who can help.
Understanding Who's at Risk
Suicide is the 10th leading cause of death in South Dakota. In fact, more people died of suicide in 2021 than in vehicle crashes. People considering suicide are often living with trauma, pain, addiction or mental health disorders. Other risk factors can include physical illness, a family history of suicide or feelings of isolation. But suicide is never the answer, and most individuals don't actually want to die – they want help.
This public health issue is devastating – and it's completely preventable. Protective factors like effective clinical care and community support can help individuals work through these feelings. Learn more about what to look for.
2024 South Dakota Suicide Prevention Conference
Save the date for the South Dakota Suicide Prevention Conference in Sioux Falls August 1-2, 2024. Hear from speakers on how you can be part of the solution.
Start the Conversation about Suicide
It's not easy to talk about suicide, but it's critically important. By checking in and speaking out, your words can save a life. Be the 1 SD encourages every one of us to show we care and save a life.
Stop the Stigma
Talking about suicide shouldn't carry a stigma – or a fear that addressing it will make it happen. Suicide can affect anyone and happens across all ages, races and socioeconomic levels. It's okay to speak up and be direct with your words. Recognizing and avoiding stigmas associated with suicide is important.
Create a Safe Space
By speaking openly and non-judgmentally about suicide, mental health and addiction, we let others in our lives know that we're a safe person to talk to and rely on.
Know the Warning Signs
Learn to recognize signs of suicidal thoughts and share them with those around you.
• Talking about feeling trapped or being in unbearable pain

• Talking about being a burden to others

• A lack of interest in activities
• Looking or a way to kill themselves
• Talking about suicide or dying
• For students, dropping of clubs, missing school or letting grades dip
• Withdrawal or aggression after a painful event or situation
• Disturbing posts on social media or a sudden shut down of accounts
• Concerning texts
• Drawings or writing about death or dying
What to Say to a Loved One Who's Thinking of Suicide
Are you thinking about ending your life?
I'm listening.
I'm here for you.
I care about you, and you matter to me.
There is no problem too big for us to get through together.
I want to help you get help.
What to Say if You're Having Suicidal Thoughts
I feel alone, and I'm having suicidal thoughts. Can we talk?

I don't want to die, but I'm having painful thoughts. Can we chat?

I don't feel safe right now. Are you free to talk?

I'm worried I might hurt myself. I could use your support.